Today turned out to be lovely, the sun was actually out and shining, and our winter has been surprisingly warm, I love snow in the winter, but I have to admit this warmth has been kind of nice. I went downtown for the day, ended up buying a new bag, feeling a little guilty since I didnt really need a new one, but it was so nice and soft I couldnt resist.
Downtown is looking ready for the Olympics, posters and such all over town, it looks like most of the new buildings are completed too. I cant help to be a little excited even though I wasnt able to get tickets to any of the events, and that everything else is so damn expensive. It will be cool to have so many people from all over though, and I plan on going to some of the free concerts. If you live in Vancouver or near, you should definitely check them out too! Theres going to be a lot of them, such as hot hot heat, we are the city, sam roberts band, said the whale, tokyo police club, alexisonfire, our lady peace, the arkells, bedouin soundclash, and many more, all free! So thats definitely one bonus, check out the rest
here
.
If you are lucky enough to stay at Whistler Im pretty sure they are going to have even more free performances from artists such as estelle, one republic, all american rejects, the fray, chromeo, usher and more.
Anywaysssss after blabbing about all that I guess I should also mention this fantastic leather jacket I found from BB Dakota. I saw it when I was in the states last week, unfortunately I couldnt get it because I was only down for a few hours, damn that small spending limit!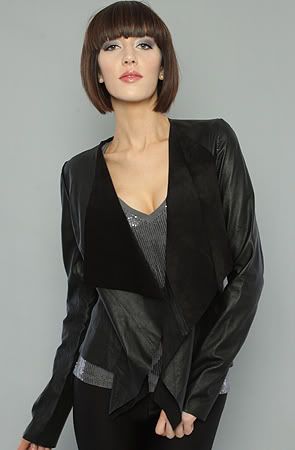 photo: stylehive, I saw it at Macys though, on sale for about $128, very Rick Owens no?